The future of urban transport infrastructure is partly up in the air. Although the current pandemic situation either shuffles the cards in the air transport trend or only slows down its development, it is interesting in this article to focus on all its current ideas and goals
We will take you on a short excursion into the future not only according to futuristic visionaries, but also according to technologists and transport companies. Thanks to technology, the city airports of the future will be reduced and often moved to the city centres
There are several different transport models. It is not yet clear whether one will prevail or whether more will coexist at the same time
But it is certain that we should prepare for theflight revolution within the next 10 years. Regardless of the current decline in air travel performance.
Convenient, baggage and passport-free at the airport of the future
Carriers are becoming modern technology companies that are learning from the best innovative start-ups. According to experts, the airport will soon start using Big Data
This will bring passengers much more convenience. So:
What would the services of the near future look like?
Passport control and check-in counters will be a thing of the past and bags will no longer get lost, as they will be controlled by robots. Airlines will even be able to pick them up at your home or hotel. In the coming decades, smaller, compact units and buildings will be created in the airport complexes, which due to their size and complexity complicate the work of staff, but also the orientation and check-in of passengers, mainly for rest, refreshment and shopping.
And very soon, robots will replace all airport staff. Yes, air travel may soon be devoid of human contact
Socially aware robots will discover your native language, guide you through the airport to your gate or a place to eat. Cleaning robots will use mapping technologies integrated with an object avoidance system, robots will pick up your luggage as above,…
Airport with "Endless Runway
Our ancestors came up with this idea during World War I, to make a circular airport. Now it reappears on the scene as a 3D visualisation
On the one hand, we need to speed up and increase the capacity of smaller airports and also reduce noise in the area. On the other hand, the circular airport area would occupy a much larger area than conventional airports so far, and a number of other problems.
Therefore, problem number 1 requires little space, the financial complexity of such a construction and, last but not least, the requirements for aircraft construction.
Manufacturers would have to incur huge financial costs to rebuild the aircraft, from the engine to the wings, in short, many things would have to be completely reworked. At first, the vision also clashes with the pilots and the control towers themselves. It turned out that current navigation systems would not work in a circular space. Accidents can occur in reduced visibility, wind or rain
However, the biggest weakness of this concept is the very safety of crew and passengers. So, the circle poses more problems than benefits, and the whole vision seems to fall back into oblivion.
Despite this, there is a Dutch scientist Hank Hesselink, who was inspired by YouTube videos for the idea of "Endless Tracks". He observed the terrifying take-off and landing manoeuvres of planes, against which a strong crosswind blew
With a 3D illustration, he wanted to change the architects' view of the principles of building a new generation of airports. Did he succeed? We leave the assessment to you.
Although this may be pure conjecture, there is a project in Spain to build the first circular runway in Valladolid (they say by 2023, but it will be, if it's done by…).
The runway would have a diameter of 3.5km and a total length of 11km where up to 3 simultaneous operations could be carried out. This project serves to carry out tests until it can be verified that it complies with the internationally required safety standards.
A modular airport that adapts to any location
In addition to the modernisation of existing airport facilities, there should also be a modular airport in the middle of cities adapted for the landing of electric drones and vertical take-off aircraft, offering passengers more than just transport services
Today, you can find such an airport in Singapore, for example.
It is named after its manufacturer, Voloport, and is full of intelligent transport systems, thanks to which it looks more like a high-tech laboratory than an airport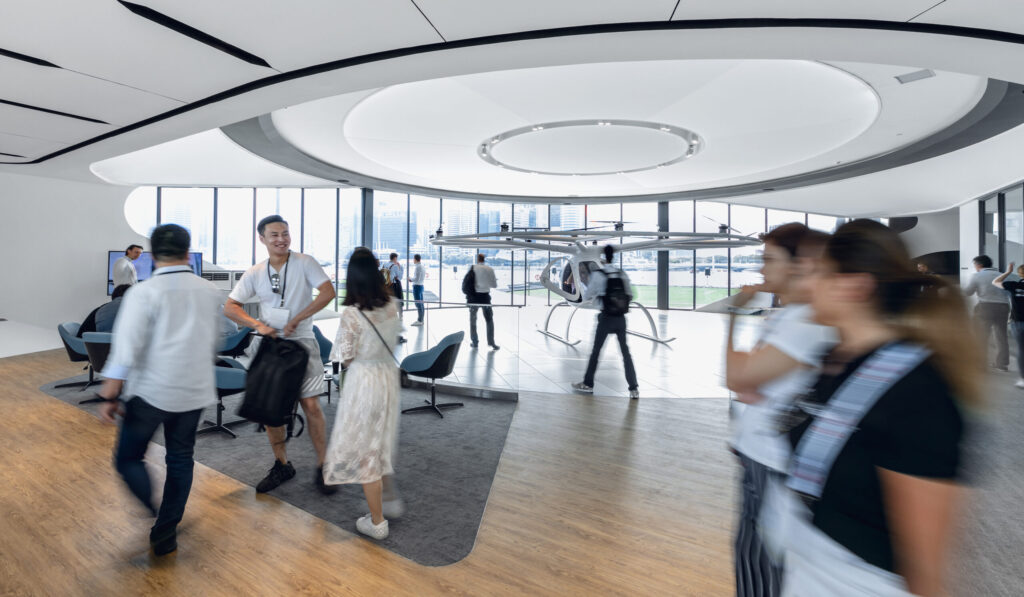 At first glance, you will be attracted by the aerodynamic shape and air spaces. It was built by the British company Skyports, which specialises in the specific infrastructure of city airports.
This type of infrastructure will be essential for the future of urban air vehicle mobility and is able to combine design and passenger comfort with state-of-the-art safety measures thanks to flexible vertical take-off and landing in megacities
Mini planes or mini helicopters?
Innovative start-ups have already created several prototypes of winged taxis. The most successful are Volocopter and Lilium. Coincidentally, both originated in German companies
However, they differ fundamentally in the technology used. The Volocopter is based on a helicopter or drone, while the LV eVTOL is very similar to a classic aircraft
Both aircraft could land on mini-airports created, for example, on the roofs of city buildings or car parks, but also on floating platforms such as Voloport.
Tomorrow's airports will be a combination of design, ecology and economy
The "airports of the urban future" will be built in the spirit of sustainable design to disturb the character of the surrounding environment as little as possible while guaranteeing passengers a perfect comfort and aesthetic experience
Trees and green areas or giant solar panels will be nothing special. There are also plans for self-sufficient airports that will use only plant energy from nearby farms. The field of small airport design is likely to experience an interesting boom.
What are your thoughts on the matter? We'd be happy to hear your thoughts right here below 😉👇