[vc_column_text
does your child love to build things? Are you an architect and do you want your child to become passionate about your sector with some of the best architecture toys on the market? If so, it's good to encourage them from a very young age with architecture toys that help them to increase their creativity and become more organised. Below you will find some excellent ideas for gifts this Christmas through the following educational games related to the world of architecture. There are options for all ages, from toddlers to teenagers. You're sure to find something that's perfect for your child through one of our «best architecture toys» recommendations. To start with, we bring you from our point of view a summary list of the best toys for architects:
The 5 best Architecture toys and games for kids
LEGO Architecture
Surely you know LEGO toys, iconic game, loved by people of all ages from young to old, and of course, if you are an architect or you want your child to be passionate about this profession, there is a line called «LEGO Architecture
» and it is really great for those of us who are passionate about architecture.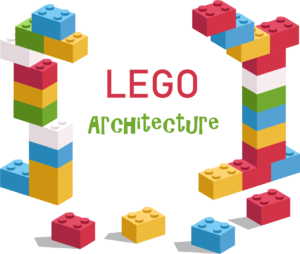 Allowing you to recreate some of the world's most famous buildings or invent your own architectural beauties, these sets are the dream of any lover of building things. The question is: which LEGO Architecture set is the right one? Do you want a quick and easy set that you can build in an hour or two or something more challenging? If you think it's a fantastic gift recommendation we're bringing you, read on for our recommendations and best toys from this collection.
LEGO Architecture
While you can find some simple sets designed for children aged ten and up, most LEGO Architecture sets are recommended for people aged 12 and up, or even 16 and up. These minimum age recommendations are generally based on how difficult the sets are, rather than any safety concerns, as tweens and teens are unlikely to swallow small LEGO pieces or stick them up their noses. As such, you can take these age recommendations with a grain of salt. If your 10-year-old is a LEGO whiz, for example, he or she will probably get by just fine with a LEGO Architecture set for ages 12 and up.
Number of pieces
LEGO Architecture sets tend to be larger. Still, they can range in size from a few hundred pieces to several thousand. If you want a fairly simple LEGO Architecture set that you can finish in a few hours at most, look for a model with between 300 and 600 pieces. If you are looking for a challenging set that can take a full day or a few nights to complete, opt for a set with around 2,000 to 3,000 pieces. Of course, everyone builds LEGO at their own pace, so these times are simply guidelines.
Size
Before buying a LEGO architecture set, it is worth checking the overall dimensions when it is finished. This is particularly important if you plan to keep it assembled and display it, perhaps on a LEGO table. Some sets are so large that you may have trouble finding a place for them to fit. Others are much smaller than they look in the pictures, so you may be disappointed if you expect something grand and imposing. While you can often get a rough idea of how big a finished LEGO set will be by the number of pieces, it can be misleading, as some sets have a lot of tiny pieces, while others have fewer pieces, but many of those pieces are extra large. The only way to know the exact dimensions is to check the product description.
Toy prices
how much are you willing to spend on a LEGO Architecture set? Prices generally vary depending on the overall size and complexity of the set. Below is a range of prices:
The cheaper LEGO Architecture sets generally have between 300 and 600 pieces and cost approximately £30 to £50.
Mid-priced LEGO Architecture sets have approximately 600 to 1,000 pieces and cost in the range of 50€ to 100€.
The most expensive LEGO architecture sets are somewhere in the region of 1,000 to 1,500 pieces (though occasionally more) and cost approximately €100 to €350.
That said, these prices are only valid when a set is still in production. Some LEGO Architecture sets become highly collectible once they are discontinued and…. they reach over 1.000€!!!.
Tips
Decide whether you want to recreate famous buildings or create your own. Most options are to recreate existing landmarks, but the LEGO Architecture Studio sets contain a variety of bricks and an architectural guide to make your own buildings.
Best LEGO Architecture
toys
LEGO Architecture - Londres
26.2 x 19.1 x 6.1 centímetros
LEGO Architecture - París

26.2 x 19.1 x 7.2 centímetros
LEGO Architecture - La Casa Blanca (EE.UU)
*
Pricing updated (2022)
LEGO Classic
The potential of this box to build shapes, buildings and structures is infinite and it is perfect to boost children's creativity. It is also an essential game for any architect who wants to lay the foundations for the ingenuity of a good designer.
With this set, children find a world of creative fun that includes an exciting selection of bright and colourful bricks and pieces, including eyes, wheels, windows, doors and hinges. Create all kinds of fun toys from a house to a cute dog. The choice is yours and anything you can imagine can be built and played with. You can always follow the instructions in this game
Lego Classic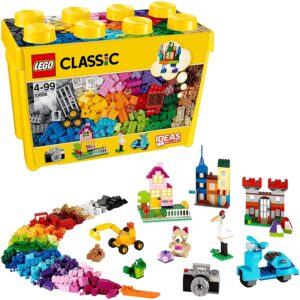 Juego ideal para niños mayores de 4 años que incluye 450 piezas en 33 colores diferentes con forma de ladrillos, separador de ladrillo, puertas, ventanas, marcos, 2 placas de base de diferentes tamaños... Con instrucciones de construcción e ideas para jóvenes constructores.
Domus Kits Hyperrealistic House Models
This Spanish company with more than 30 years of history, makes models of different styles such as: villas, rustic houses, popular architecture, Romanesque, medieval, HO architecture… with building instructions or even be creative and make your own designs because if you need more accessories they have to sell them. The model normally starts with wood or hard cardboard to then build the building with different natural materials at a scale of 1:10 or 1:20 such as double bricks, gero, bovedilla, tongue and groove, Arabic tiles, Flemish tiles, partitions, tiles, steps, exposed brickwork, latticework and different accessories such as windows, grilles, trees, moss, stones…
Don't worry if you find the construction complex because there is online support for all the series with pictures of the assembly instructions for each model.
Like any craft project, they can be hours of fun and are full of little details to pass the time.
This type of toy is designed for both children and adults, but if you decide to give this option to your child, it is normally recommended for children aged 10 and up, although it is possible from the age of 8.
Benefits of model kits
Model kits are ideal gifts for children – they'll always love them!
Model kits are a fantastic way for parents and children to spend quality time together. The rewards can be found not only in a finished project, but also in time well spent with a loved one.
Architectural models can also help develop creativity, allowing you to focus on a task that requires concentration, time and effort.
Time involved
he time needed to create a model will always depend on the model being purchased (depending on the parts) and the agility of the child.
Some models can be assembled in just a few hours, while others may take a considerable amount of time, such as a few weeks or even months.
Be sure to look at the model you are interested in to see if it offers an approximate assembly time.
If it does not offer this, look at the level of experience, the components and the model itself. This should give you some indication of how long it may take to complete.
From there, decide if you are comfortable spending the time necessary to assemble the model.
And once we know all this, it's time to enhance our selection of the top 3 models:
27.5 x 30 x 11 centímetros





Horas y Horas
de construcción






100 x 60 x 20 centímetros

* Updated prices (2022)
Other items needed for model making projects
If you're wondering what other parts and pieces you might find useful if you take up wooden models as a hobby, consider some of the following as good options to have on hand.
Glue: it is good to have glue on hand to glue pieces together, but it is also useful for repairing pieces that may have become separated
( Click here forbest selling glues )
sandpaper: sandpaper can be used to smooth wooden parts that may have slight burrs
( Click here to see the best sellingsandpaper )
Paints and brushes : most wood model kits do not come with paint to decorate finished projects, so you may want to invest in a small set of paint and brushes to unleash your creativity
( Click here to seethe best selling paintbrushes and here to see the best selling paints )
Magnetic toys
Giving your child a magnetic toy can be a great idea. Magnets have long captured the attention and imagination of children. Magnetic toys are an ideal way to tap into this curiosity and nurture it with this kind of play that nurtures their creativity.
are magnetic toys STEM toys?
Magnetic toys are excellent for teaching STEM concepts such as engineering, architecture, physics, etc…. The principles that make magnets work are based on science. These toys also definitely increase «soft» STEM skills such as hand-eye coordination, concentration, motor skills and problem solving
.
why include magnetic toys in my child's play?
Magnetic system-centred architecture toys help teach a wide variety of concepts. They can encourage STEM skills such as engineering, maths and science. They also teach fine motor skills, coordination, problem solving and critical thinking. Plus, they're just plain fun! Most children are fascinated with magnets and how they work, so including some magnetic toys in your child's life is a great way to increase their enrichment.
are magnetic toys dangerous?
Magnetic Architecture toys should be safe as long as you follow the guidelines included and choose age-appropriate options for your child. Danger can come in the form of magnets small enough for children to swallow or high-powered magnets that can pinch and break the skin. Avoid giving children high-powered, adult-oriented magnets, and supervise them carefully when they play with their magnetic toys.
Limmys Bloques de
construcción magnéticos







Dimensión Producto
40 x 40 x 40 centímetros

74 piezas + Libro de ideas
Crenova
Juego de construcción






Dimensión Producto
24.6 x 19.8 x 14.6 centímetros





Dimensión Producto
‎10.16 x 18.54 x 22.35 centímetros
* Updated prices (2022)
18 games and toys that you'll also have to consider if you want to get the gift right